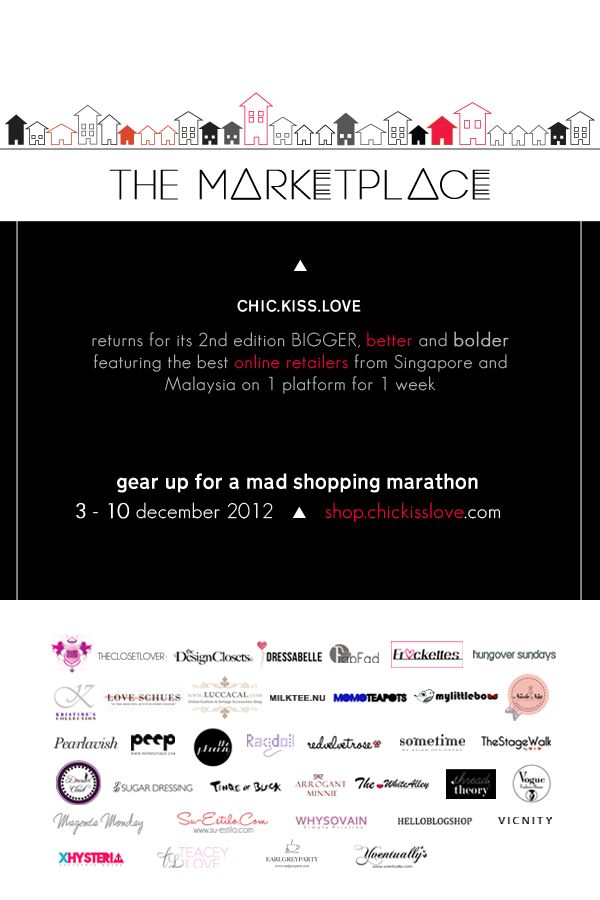 ☺
☺
☺
☺
☺
☺
☺
☺
☺
☺
☺
☺
☺
☺
☺
☺
☺☺
☺
☺
SOMETHING AWESOME
IS GOING TO HAPPEN LATER ON
TODAY 8 PM
, PEOPLE!!
From the awesome people who held The Fashion Uprising at Zouk earlier this year,
CHIC.KISS.LOVE. gives us all another reason to be jolly this December!
From 3rd

-

10th December, CHIC.KISS.LOVE. is having a massive shopping extravaganza!!!
EXPECT NEW AND EXCLUSIVE COLLECTIONS, AWESOME DISCOUNTS,
AND FREE SHIPPING

WITHIN SINGAPORE AND MALAYSIA!!!
45

LABELS TO SHOP FROM! ALL WEEK LONG!
Regardless of your fashion style, there's definitely something for everyon

e!
☺
☺
☺
☺
☺
☺
☺
☺
☺
☺
☺
☺
☺
☺
☺
☺
☺☺
☺
☺
Seriously, who doesn't love it when the words
EXCLUSIVE
,
DISCOUNTS
, and
FREE SHIPPING
are in the same sentence?
Those words are just sweet, beautiful music to my ears
(in this case, my eyes?)
and I cannot contain my excitement!!!
What's awesome is that this is actually the first time that top fashion labels from Singapore and Malaysia are coming together for this online shopping bazaar and offering free shipping for both countries. 45 labels are on board at the moment, featuring top labels like THE CLOSET LOVER (SG) and MILKTEE (MY). Yet ANOTHER awesome thing to be excited about - CHIC KISS LOVE has been holding some contests and giveaways for labels, such as Vanity Trove, to win shopping credits & freebies. So stay tuned in to their twitter and be sure to check out their facebook as well!
@chickisslove
and
www.facebook.com/chickisslove
HOW THE MARKETPLACE WORKS:
1) CREATE AN ACCOUNT
This will allow a more convenient check-out process as payment details and individual profiles will be locked in by the system.
2) TAGGING OF ITEMS ON SITE
All items on site will be tagged according to various attributes. For example: #Floral, #Red dress, #Christmas, etc.
Recommended tags such as those Recently Searched, Most Searched, and Best Sellers will be automatically tagged to items based on their on-site activity.
3) POWERFUL FILTERING SYSTEM
Users are able to browse through items through intuitive categories such as different price points, colours, occasions and brands to make for quicker shopping. For those who would prefer a more minimalistic interface showing only what they like, they will be directed to a page where they can choose up to 10 of their favourite items. The system then monitors the tags attached to these items and identifies similar trends before collating and generating a page suited to what the individual likes.
4) PAYMENT INFRASTRUCTURE
The payment process will begin upon "checkout" and customers across Singapore and Malaysia can pay via iBanking or Paypal.
Shipping is free!
*
PARTICIPATING LABELS
SINGAPORE

- Earl Grey Party, DressIn' Closet, Dressabelle, Fabfad, Frockettes, Hello! Blogshop, Hungover sundays, Love Schues, Magenta Monday, Momoteapots, My Little Bow, Kristine's Collection, Pearlavish, Ragdoll Store, Red Velvet Rose, The Closet Lover, The Design Closets, The Phrenzy, The Stage Walk, The White Alley, Teacey Love, Thread Theory, Tinge Of Black, Vogue fashion house, Yventually, Why So Vain, xHysteria, Lavender Lane, Glam Vogue etc
MALAYSIA
- Baby Bedazzled, Luccacal, Milktee, Nude Not, Sometime, Peep Boutique, Su-Estilo, Sugar Dressing, The Arrogant Minnie, Vicnity
And thanks for the lovely package, CHIC.KISS.LOVE. & Vanity Trove! ♡ So excited to try them out!
♡♡♡♡ HAVE FUN SHOPPING, EVERYONE!!!! ♡♡♡♡