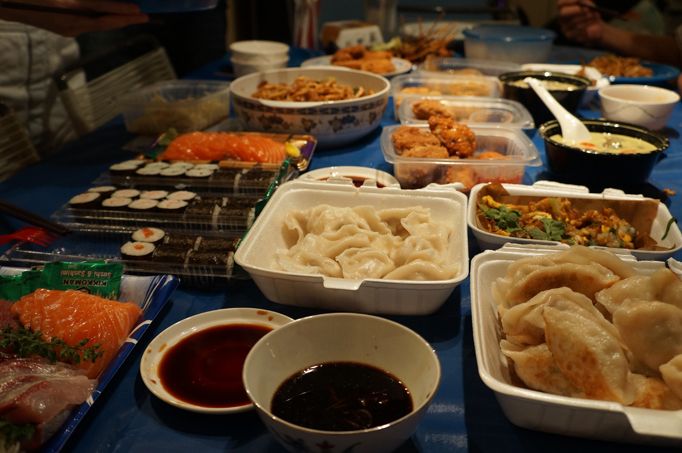 Christmas this year was the most exciting one in a long time.
The thing about having awesome uncles & aunts is that they are super lovely and will try to find out what you want and get it for you.
But with great power
(
of being able to ask what you want for xmas
)
, comes with great
responsibility
sadness
- it took away the excitement while you are ripping your presents open. Well, it wasn't all that bad. I'm not exactly chummy with my mom all the time but she gives such unexpected gifts sometimes. Last year, she got me a short blonde wig, a make up bag, a bracelet and because I always complain about not owning any mascaras and that my eyelashes are non-existent.... she also got me AN EYELASH EXTENSION SERUM. It still makes me laugh even to this very day. :'D
The main reason why this Christmas was so special is because it's the first time me and my sisters actually got something for each other. It wasn't planned but since my sis Chloe got something for my other sis Alexis, I thought I should get something for Chloe as well. Then, it turns out they both got something for me too. We were just so excited for each other to see the present and what we got for each other that it was unbearable. We even did a countdown and see who would crack under the anticipation first.
And what's up with the weirdly wrapped presents? This all began a few years ago when we were on a family holiday. Alexis & I randomly bought a pencil that had a penguin carved out of the wood on top for Chloe from a souvenir shop and I decided to wrap it in tonnes of newspaper. (
And I mean it when I say "tonnes".
) Then it became a tradition for us sisters to wrap each other's birthday presents this way. As the years went by, our gift wrapping skills got even better. The main point is to have as many layers as possible.
And here is a beautiful photo of our gifts for each other.
(left to right)
#1 is an art book that Chloe bought for Alexis
and we both wrapped it in MANY layers of magazine cut outs and LOADS OF TAPE. We crushed a lot of the magazine cut outs into tubes and balls as well so it wouldn't be obvious it's a book if Alexis tried to squish the present. I didn't have a lot of tape left around the house so we finished 3 rolls of already-running-out-tape. When we ran out, no problem at all - we just stuck whatever was left of the tape roll onto the present itself (see next pic). We even tricked her that she got ear phones instead. And the ugly doodles of Alexis' favourite comic characters are by yours truly. The uglier, the better.
#2 is Chloe's cute Nyanko Sensei cat hat that I bought for her
, wrapped by Alexis and I. There's many layers alternating between plastic bags (tied up and taped together to make things difficult) and magazine cut outs. Doodled a lot of
Adventure Time's Lemongrab
over people's faces for her because she loves him.
The third present was mine, bought and wrapped with a truckload of newspaper by my sisters. On one side, they stuck on a cut out of The Dark Knight Rises poster from a newspaper's movie timing section. And the other side was a beautiful collage that made me laugh to tears for a minute when I accidentally found my present in my parents room. There's Shrek, Elmo, Gollum, some indian musician and "two hamburgers on his shoulders", according to Chloe. After ripping through the newspaper, I found a metal lunch box. And when I opened it, I almost cried. MY SISTERS GOT ME EXACTLY WHAT I WANTED. I was EXTREMELY SHOCKED because I joked to them a few weeks ago that I wanted a pouch from Amazon and they actually found it while shopping.
EVERYONE, I GOT A FREAKING PEANUT BUTTER AND JELLY SANDWICH POUCH.
I WIN.
Needless to say, it's the BEST CHRISTMAS EVER.
I hope everyone's Christmas was as awesome as mine's!!!