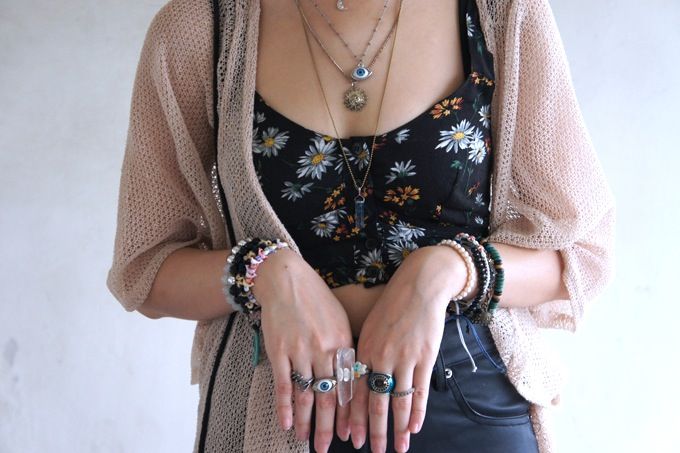 FLORAL BRALET, TOPSHOP / WAFFLE KNIT CARDIGAN, SECONDHAND / PLEATHER SHORTS, EDITOR'S MARKET
SEQUINED ELEPHANT BAG, THAILAND / RINGS - DIVA, AMEN, H&M / BRACELETS - THRIFTED / NECKLACES - TOPSHOP, AMEN
The perfect summer festival outfit!
Well, if only there was one for me to actually attend...
But I would definitely wear this. There's a nice, boho vibe going on with my flowy cardigan (
totally breathable during the summer heat, trust me
) and piles of accessories but the dark florals, black leather shorts and shoes kind of toughen things up. Just the way I like it.
And if you couldn't tell from the difference of my hair style in these photos, that's because these were actually taken a while back. I was pretty smart (
and free
) during my last summer holidays and decided to stock up on some outfits just in case I didn't have time to take photos of some. Which is great because I am absolutely swamped with work right now as my assessment is around the corner. Pretty surreal how the past few months flew by so quickly and how I am going to enjoy that sweet, awesome feeling of being free from school again really reeaaaally soon. But for now, fingers crossed that everything works out fine for my school work. I hope everyone is doing much better than I am!
♡ ♡ ♡ ♡