Chiffon top, The Scarlet Room & Denim vest, LY's / Tribal shorts, H&M / Shades, The Cobra shop / Gretta lookalikes, online /
Necklaces, Topshop & Amen
Along with LY's chiffon top and this super awesome spunky neon pink tribal shorts, this outfit is just screaming, "BOHEMIAN! SUMMER! ICE LOLLIES! SUN!" Threw on a denim vest to add in an extra spunk and well, everything looks cooler with denim, right? Of course, this is not beach-volley-ball-friendly with the unexpected chunky heels
(unless you take them off!)
. Technically, it's almost always summer here in Singapore. So this is a casual bohemian outfit that would look good worn to school, to town, to barbecues, beach parties, anywhere!
And can I just say that I really love the 1st photo of myself? Okay.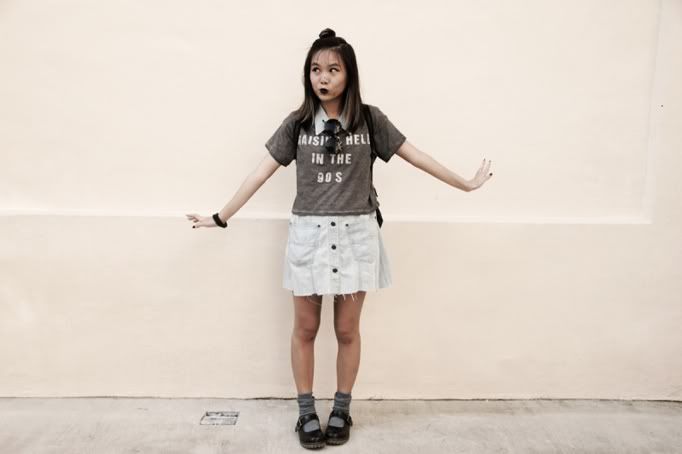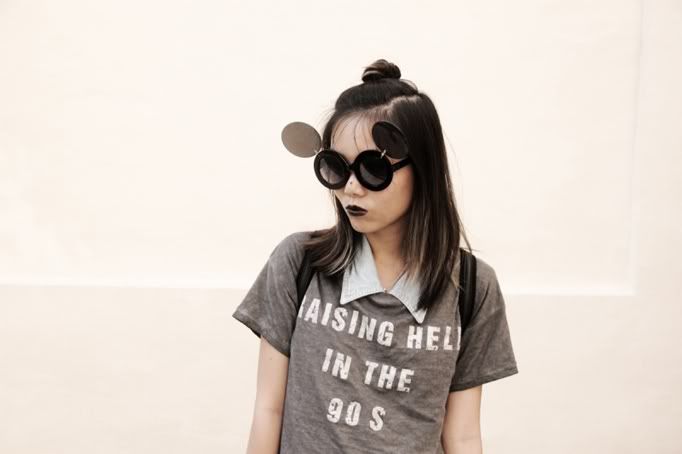 Crop top & bagpack, Topshop / Denim dress, thrifted / Socks, Uniqlo / Maryjanes & shades, Bugis street
LY
never cease to amaze me with her interesting outfit ideas.
She always come up with such cute layered outfits! I also like how her top and socks are grey, giving her outfit pieces some consistency.
Haha, and here's my little summer playlist. Well, okay maybe they are not the best songs to represent summer. They are just a compilation of some happy, upbeat songs that I like. And, I'm just gonna put it out there that, lol yes, my youtube username is 'gothicalolita'. HAHAHA it's a random thing I came up with years ago and thought,
"AWWYEA, that rhymed."